Wilson Class of '67

​Invitation

The invitation has been mailed.
If you did not receive, please
Register with your Reunion Committee
​on this website to ensure we have your correct contact info!Deadline for reservations has been extended !!!​We have an exciting, yet casual, weekend planned and look forward to seeing each
and every one of you - not to worry,
we'll have your Senior pic on your name
​tag to help recognize fellow classmates!


​Who's Coming!

Watch this site for weekly updates on who will be attending - hope to see your name soon!!!

​ABBOTT, Ralph AND Bonnie CORNWELL Abbott ('67)ABRAMS, LindaAHRENS, Janice Ahrens-Porter

ALDRICH, Bill

ARCHER, Robyn

(Friday only)

ARMSTRONG, John AND Barbara BUCKLE Armstrong ('67)

BAILEY, Ken

& Barbara Bailey

BARKER, Raedel Shaw

& Sherry Barker-RayBARNETT, John David (Friday only)

BARRITT, Bill

BARTHEL, Kurt R.

& Guest

BEEBE, Stephen

& Pauline BeebeBERRISFORD, CassieBERRY, Susie BrownBERUDE, John

BISHOP, Dean

& GuestBJERKE, Esther Larsen

BLAIR, Nancy

BLAISDELL, Larry

& Cheri ColadonatoBLOUNT, ShashBONZER, Bob and Sylvia Bonzer
​BREGA, Rick & Sally Brega
​BUCKLE, Barbara Armstrong AND John ARMSTRONG ('67)
CARL, Tom & Shelley Carl

CHAMBERLIN, Joseph

​COCHRAN, Monty

& Ginger Cochran

COCKE, Cheryl Oliver

& Ray Oliver

COHN, Murry 'Corky'

& Paula Cohn

CONNELL, Pat

(Friday only)

COOPER, Michael

& GuestCOPE, DennyCORNWELL, Bonnie Abbott AND Ralph ABBOTT ('67)

COTTLE, Barbara Varat

& Jon Varat

CRAYS, Patti Genel

​CROSBY, Ed

CURTIS, Karl & Christine Curtis

DAVIS, Keith

& GuestDAY, Debi Williams AND Ross WILLIAMS ('67)DECKER, Bill (Friday only)

DiGIGLIO, Anita Fuller

& Chuck FullerDOHERTY, Cam Killingsworth

DUKE, John 'Morgan'

& Susan DukeDUMMIT, Dennis

EFFINGER, Kirk

& Kaye Effinger

ENGLER, Pete AND Sheryl MILLER Engler ('67)

ERICKSON, Cheryle Patty

& Lori Erickson

ESELUN, Terry

& Diann DavissonFINN, Lavada 'Jean' Santavicca
FISHER, MilesFLEISCHLI, Jack (Friday only)FORMAN, Lee

FOWLER, Bill

& GuestGABRIELSEN, Byron

GAETA, Lenny

& Belen Gaeta

GARNER, Tracy

GESCHEIDER, Lynn Nielsen

& Terry Nielsen

GILL, Carolyn Callahan-Karmelich

& GuestGILL, GregGORDON, Andrea Weil and David Weil
GRAHAM, Clive

GRAY, Terry

& Sharon GrayGRICH, Bobby and Zetta Grich
​GRUBB, Jake (John)
GUIVER, Kate Dare-Winters

HAGEMAN, Tom

​HALDANE, Dave

& Ivy Haldane

HALL, Norma Mooney

& Clayton MooneyHALL, Richard
​HAMMOCK, Fran McKenzie
​HARRIS, Bill
HARRIS, Bob
HARRIS, Donna O'Donnell
​HERNANDEZ, Michael

​

(Friday only)HEVENER, Jim (Friday only)HILL, Alexandria
HOGAN, LouAnn Bonanza & Robert Bonanza
HOOD, Mike
​HOPKINS, Sally Reed
HUTCHINS, William (Friday only)JELLICK, Jeff and Josie NIETO Jellick ('67)
JENNINGS, Jim & Kim JenningsJOHNSON, Leanna Gutman (Friday only)JOHNSON, Mary Wodehouse
​JOHNSON, Susan KleminJOHNSTON, Denise Smalley and Randy Smalley
​KATZ, Jeanne McKay
KEMNER, Randy & Dale Kemner
KINDSCHI, TomKNOX, Rich AND Janet MARCUM Knox ('67)KOBER, Bonnie Peterson (Friday only)KRAFFT, Wendy Copra
​LA FLEICHE, Suzanne ChilowLANG, Paul (Friday only)LEE, FrankieLEWIS, Pam Lewis-Plumbley & Bob PlumbleyLINEBERGER, Jim AND Betsy RATHBUN Lineberger ('67)LINGLE, Jim and Kathy Lingle
​LIVENGOOD, Barbara (Friday only)LOSCH, JessicaLYDERSEN, Kari BosterLYNCH, Anne
MARCUM, Janet Knox AND Rich KNOX ('67)MATSUDA, BobMAYFIELD, Dennis and Debbie Mayfield
McFARLAND, Scott (Friday only)McKINSTRY, Melanie HenkelMcLAIN, Karen
MELIN, Ross (Friday only)MENSER, Betsy Metcalfe

MILLER, Gregg

& Guest
MILLER, Jerry
MILLER, Sheryl Engler AND Pete ENGLER ('67)

MILLIE, Nancy Clock

​MOORE, Fran Phillips

& GuestMOORE, Willa

MORGON, Greg

& Gloria MorgonMOSKO, Sarah Stephanie aka 'Steve'
MUNNERLYN, Jo Ellen Whitecotton

NAEVE, Gary

& Lynne NaeveNEAL, Ginger Messmer

NEBLE, Andrea Cook

​NESBITT, Judi McMahon

& David McMahon

NICHOLLS, Wayne

& Debbie NichollsNIETO, Josie Jellick and Jeff JELLICK ('67)
​NOSWORTHY, Dale

PAAP, Rick

(Friday only)

PETERSON, Janis

PETERSON, June AndersonPETERSON, Kristine P. Hale​POMELLA, Anthony
PRICE, JimRATHBUN, Betsy Lineberger AND Jim LINEBERGER ('67)​RICE, Marlene
RIVES, Mike
ROADY, Suzanne Roady-RossROSS, Nedra AtwoodROY, Margo Weatherton AND John WEATHERTON ('67)

ROZIER, Lee & Guest

SAMUEL, Alan

​SANDBERG, Gay Anderson

& Bob AndersonSCHNUG, Carole Marlowe

SCHROEDER, Lynn Eaton

& Bob EatonSCHULER, Dennis
SCOTT, Chuck SENNATT, Tim

SEVERSON, Jeff

& Guest

SEWELL - Mr. Ed and his wife Glenda

​SHALLIS, Nancy Louise Desmond

& William DesmondSHEPARD, Jeff
​SHUFF, Joseph
SILVERSTEIN, Laura
​STUART, RobbieSTUDENT, Nancy Curry
THOMPSON, Gayle Taggart

TOLLEFSON, Peggy McCormick

​TUFF, Larry

& Dallas TuffWARE, Kathy DayWEATHERTON, John and Margo ROY Weatherton ('67)

WELLS, Betty

& Jeff WrightWELLS, Debbie BooneWEST, Elayna Konoske
​WHEELER, Janie

WHITE, Fleet

& Priscilla WhiteWILHELM, Irene Gray & William GrayWILLIAMS, Ross AND Debi DAY Williams ('67)

WILSON, Tim

& Carol WilsonWOODALL, Glenn (Friday only)

YORK, Jim

& Ann York

ZANTINY, Dave

& Fran ThomasZEIGER, David

ZIEG, Steve

& Patti Zieg



​​Memory Book


Do not miss an opportunity to purchase a Memory Book
(included with your
Reunion Saturday Night Reservation)
OR,
if unfortunately you are
unable to join us
in August, please send in your check for a copy of the
50th Anniversary
Memory Book -
a wonderful keepsake of the
weekend and a very
​special update
on your fellow classmates!

MOST IMPORTANT
Be part of the book!
DEADLINE IS AUGUST 15 TO BE PART OF THE MEMORY BOOK!
​Please email your information
​along with a
current photo of your choice.
Complete instructions
​are in the invitation!


Powered by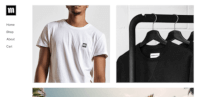 Create your own unique website with customizable templates.